*All prices are in USD*
Character illustration
-Sketch/Line art-
. Bust/Waist up: $30

Additional person (Max. 3): +$15/each
. Full body: $60

Additional person (Max. 3): +$30/each
. Chibi: $20

Additional person (Max. 3): +$10/each
*Duration: 1 - 2 weeks*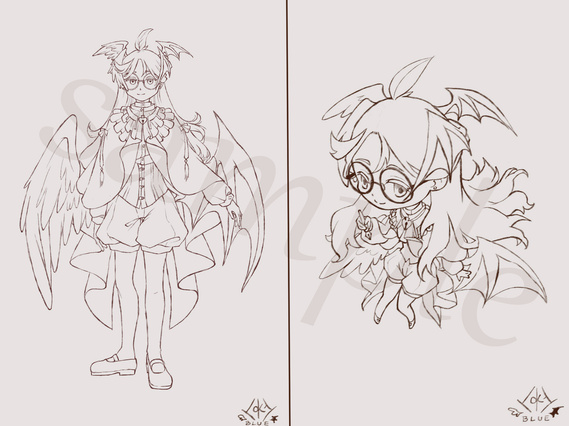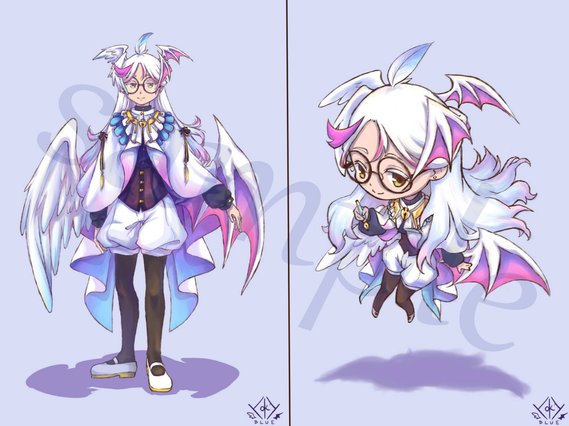 -Full color-
. Bust/Waist up: $60

Additional person (Max. 3): +$25/each
. Full body: $120

Additional person (Max. 3): +$55/each
. Chibi: $40

Additional person (Max. 3): +$20/each
*Duration: 1 - 3 weeks*

-Crosshatching-
(black and white or monochrome only)
. Bust/Waist up: $50

Additional person (Max. 3): +$20/each
. Full body: $110

Additional person (Max. 3): +$50/each
. Chibi: $30

Additional person (Max. 3): +$15/each
*Duration: 1 - 2 weeks*

- Character sheet from pre-existing design-
A 2 - 3.5 sides character sheet based on pre-existing design of a character and a fully painted front body will be made.
. Starting price: $150/per character
*Price can change depending on the complexity of the design*
*Duration: 1 - 2 months*
- Character design-

Design a character from scratch or based on descriptions. A 2 - 3.5 sides character sheet (with details if necessary) and a fully painted front body will be made.

. Starting price: $170/per character

*Price can change depending on the complexity of the design*
*Duration: 1 - 2 months*

A fully painted illustration featuring 1 or more characters with a simple or complex background and lighting.
. Starting price: $170
*Price will change based on how many characters, the complexity of the environment (aka background and foreground elements), and the complexity of the illustration composition*
*Duration: 1 - 2 months*
*What I will draw*
Real people (in anime style)
Fanart
Original characters
Couples
*What I will not draw*
Mech
NSFW (+18)
Furries
Horror/Gore
*Workflow*
Email and duscussions
v
Payment recieved through PayPal invoicing
v
Planning and Sketch phase
v
Sketch approval, Line art phase
v
Line art approval, last call for free revisions, Base color phase
v
Base color approval, Render phase
v
Final product preview, email with completed work files sent!
**IMPORTANT**
. Please read my Terms of Service before commissioning me!
. Payment will be 100% upfront before starting the planning/sketching phase.
. Payment will be through PayPal only.
. Don't send me any payment before I have agreed to the commission and requested you to send me the payment.
. Please provide colour character/photo references as well as a description describing the character(s).
. Please let me know the purpose of the commissioned art (if you need the art for something else other than posting on social media), so that I can provide you the best service I can give!
. If there is no picture reference/written reference only, I will charge an extra $15 USD (unless its a character design commission).
. Illustrations will have a transparent background by default. If you would like a background, please request it at the beginning. A background may also cost an additional fee depending on the complexity. Simple colour background is free.
. Complex background with foreground elements and complex lighting will be considered as a full illustration commission.
. For commissions with "starting prices", the base price will be paid first, then after the initial sketch phase, any added price will be charged before moving into the colouring phase. Added price will usually based on hourly wage.
. Invoice will be sent once commission is confirmed. I will not start until I have received payment.
. At the sketch stage, 3 changes are free. Once the drawing is in the colouring stage or completed, changes may cost a fee depending on complexity.

. Other file formats (such as PSD, JPEG, etc...) can be delivered if discussed with me before hand the need of such files, price might be affected depends on the type of extra files you need (for example: if you need a PSD file for a Live2D animation and need the parts to be separated and ready for animation, I will add in additional fee because I need to draw in additional/completed parts for quality animation)
. If you want to use my commission for 2D animation rigging (like live2D for VTuber avatars), if possible, please let me know who's doing the rigging, if there's a special PSD layout the rigger needs, and let me know if there's anything you need fixing in the final product!
. If a commission is for commercial purposes, 150% may be added to the price.

If interested, please contact me via:
or leave me a message at my contact page.
Or you can buy me a Coffee on my Kofi if you wanna! It's cheaper!